Your ability to safely serve and maintain food hinges on your ability to equip your staff with vinyl gloves. At Servous, we offer a full array of wholesale gloves, including vinyl gloves.
Our vinyl gloves are latex-free, safe, and very comfortable, which makes them ideal for foodservice. These gloves can be used for serving, cooking, food preparation, and several other general tasks.
Our Vinyl Gloves are the right solution for all your food service applications. See PDF.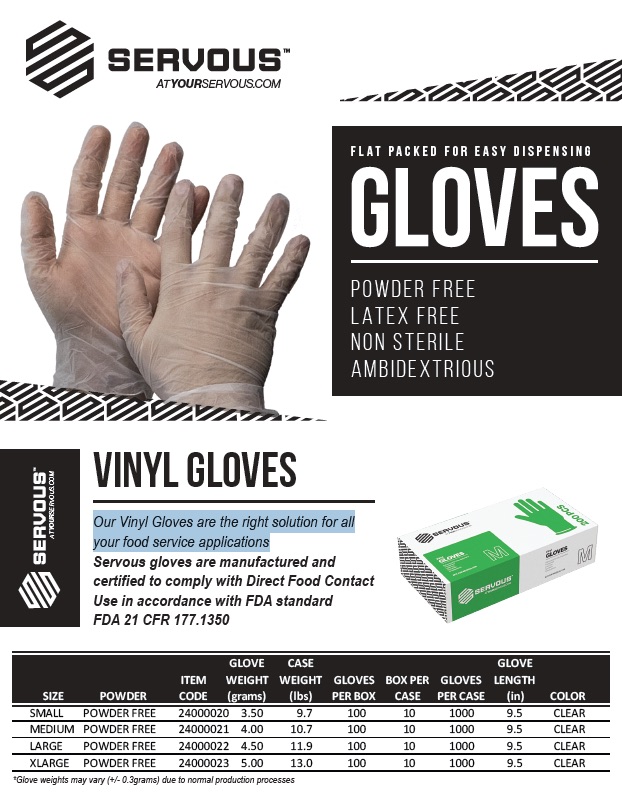 Disposable Powder-Free Vinyl Gloves
Our vinyl gloves are made from the non-biodegradable, synthetic material— polyvinyl chloride. These durable gloves boast a longer shelf life when compared to other options, such as latex. The primary consideration of our vinyl gloves is that they are not designed to provide suitable protection from hazardous chemicals. 
Protect Your Foodservice Facility with Vinyl Gloves
Undoubtedly, the most common use of our disposable vinyl gloves is in the kitchen. We regularly partner with foodservice business owners and managers to provide affordable, reliable vinyl kitchen gloves. 
Protect Food Handlers with Vinyl Gloves
Our vinyl gloves are perfect for preventing the spread of potentially dangerous bacteria while protecting the user's hand from acidic foods, spicy foods, and more. At the same time, using vinyl gloves gives the user additional leverage when opening containers and jars. 
Why Choose Powder-Free Vinyl Gloves?
Thanks to a latex-free, powder-free design, our vinyl gloves are proven to be perfect for environments where allergens are a concern. Additional key benefits of choosing our high-quality, disposable vinyl gloves include:
Easy dispensing. All vinyl gloves are supplied in an easy-to-dispense, perforated box. This allows you and your team to easily access one sanitary glove at a time. 
Ambidextrous. With our convenient ambidextrous design, our powder-free vinyl gloves work perfectly on either hand. 
Large sizes. Offering your employees the right size glove is paramount. If the gloves are too small, they are more susceptible to tears and rips. Gloves that are too large can fall off. Fortunately, we offer a large array of sizes to choose from. 
Excellent form, fit, and feel. Vinyl gloves are superior for durability and flexibility, which is why these gloves are the premier choice for food preparation, service, and more. 
Retain excellent motor skills. With the ability to move with the hands and not against, vinyl gloves deliver unmatched fine motor control and touch sensitivity.
Vinyl Gloves Strike the Perfect Balance: Performance and Price
Disposable vinyl gloves strike the perfect balance between performance and price, which is one of the top reasons they are so in demand across restaurants and kitchens. Our foodservice grade vinyl gloves can be used for:
Serving food
Cooking food
Preparing food
Even light janitorial work
And other general tasks
Find All Types of Foodservice Grade Vinyl Gloves
Formulated from PVC, our disposable vinyl gloves are manufactured to provide the highest level of protection with excellent durability, sensitivity, and elasticity. In addition, our vinyl gloves are accented by a desirable silken feel. 
At Servous, we offer one of the largest and most robust selections of vinyl gloves for food contact. Most importantly, we make finding the best type of vinyl glove easy.
Contact Servous Today for Wholesale, Bulk Vinyl Gloves
Choosing the best foodservice gloves can be confusing and a challenge. However, the team at Servous can and will help. We specialize in offering customized solutions to restaurants, retail stores, and other food industry establishments. Our seasoned experts will get to know you and your facility's needs to guide you to the best solution.
Contact Servous today for foodservice gloves.