At Servous, we offer a full catalog of polyethylene (PE) gloves that are certified safe for food contact. Our poly or PE gloves are uniquely engineered to prevent bare hand contact with food when it's being prepared and served. 
In addition to being an FDA-approved food handling solution, PE gloves are a low-cost option for all types of foodservice facilities. And Servous specializes in helping businesses choose the best poly glove for the application. 
As a leading provider of PE gloves, we offer all sizes and types of gloves for virtually any foodservice application. Read on to learn more about our polyethylene gloves.
Economical Polyethylene Gloves
Polyethylene gloves are one of our most economical disposable gloves. These gloves are primarily utilized for light-duty foodservice contact. Because they are highly economical, these gloves are cost-efficient for jobs that require frequent changes. 
Our poly gloves have a loose fit design and are perfect for easy on and off applications, such as::
Deli counters
Foodservice lines 
And more
They are also excellent for applications that require quick changes, such as: 
Making sandwiches
Prepping salads
Serving Food
Servous Offers Different Types & Sizes of Poly Gloves
At Servous, we offer the full gambit of polyethylene gloves. Some of the most common types of polyethylene gloves we offer are:
Cast Polyethylene (CPE) Gloves
As a great alternative to latex or vinyl gloves, CPE gloves are thicker, more durable as well as more economical and more efficient. These gloves offer multiple off and on capabilities. And they can be properly sized for better efficiency and handling at work. In many applications, CPE gloves can be worn for the whole day. 
Our CPE Gloves are the right solution for all your food service applications. See PDF.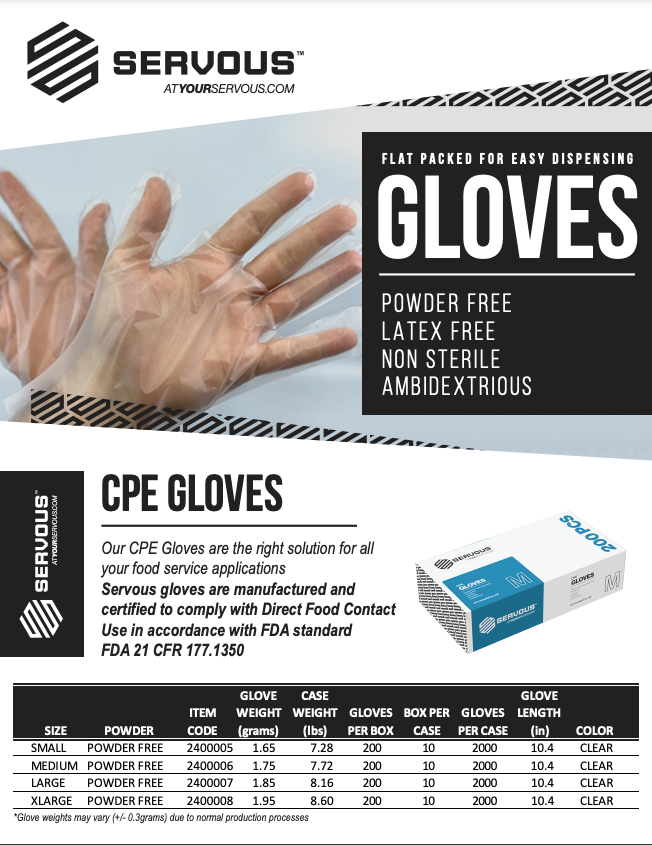 Thermoplastic Elastomer (TPE) Gloves
TPE gloves are arguably the best PE gloves available. They offer the same elasticity as rubber gloves, which makes them a perfect alternative to vinyl gloves. Similar to CPE gloves, TPE gloves are known for their durability. 
High-Density Polyethylene Gloves (HDPE)
As the most cost-efficient type of PE glove, HDPE gloves are designed for the most basic use. They are single-use only and come in large sizes to prevent frequent tears. HDPE gloves are thinner, harder, and perfect for light foodservice work. 
Low-Density Polyethylene Glove 
LDPE gloves are characterized by softness and strength. Similar to HDPE gloves, LDPE gloves are lightweight, thin, and suitable for light-duty foodservice work.
How to Choose the Best PE Glove?
Choosing the best PE glove for your facility can seem challenging, but Servous makes it easy. Our experienced food supply specialists will get to know you, your needs, and the application. 
Then, we can offer expert guidance for the best solution. As industry leaders, we regularly partner with foodservice businesses. And when you partner with us, you can leverage our industry knowledge to make the best, most informed decision. 
Contact Servous for Wholesale Polyethylene Gloves
At Servous, we are the leading supplier of PE gloves and other supplies necessary for food prep and serving. We specialize in offering customized solutions to retail stores, supermarkets, restaurants, and other establishments within the foodservice industry.
Contact Servous today for wholesale foodservice gloves.